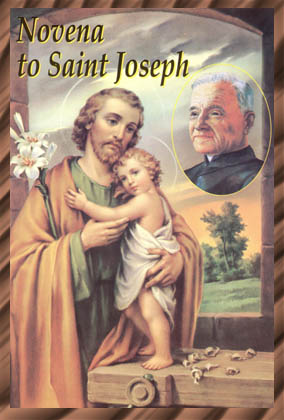 St. Joseph, is the foster-father of Jesus and the husband of the Blessed Virgin Mary. Because of his merits, he is known by many titles: Patron of the Universal Church, Patron of the Sick and Dying, Patron of Fathers, Patron of Workers, Scourge of Demons, among many others.

Because not one word of his is recorded in Holy Scriptures, St. Joseph is the silent figure of three persons in the Holy Family. Yet, reading of his God-given tasks and how he reacted to them, proves that St. Joseph, after Jesus Himself, is the greatest man to imitate in your daily life.
St. Joseph's primary feastday is March 19th.
Here are some cool things I found on the internet named after St. Joseph:
St. Joseph Hospital, St. Joseph News Press, St. Joseph Mercy Hospital, St. Joseph Missouri, St. Joseph College, St. Joseph University, St. Joseph Michigan, St. Joseph Medical Center, lots of St. Joseph Churches. If you think of more, email us.